https://www.youtube.com/watch?v=T1XLHsz4r_M
Online Personal Training Essex
Workout On Your Own Schedule

Enjoy Longer Workouts

Access Anytime To Expert Advice

Additional Motivation

Amazing Results
Enquire
Say Hello Today
Ask us about our online personal training and see how we can help you achieve your goals.
Book Your FREE Consultation
Contact us today and get a free consultation now!
Online Personal Training
Here at Recipe for Results, we specialise in personal training. We travel all throughout Essex, providing expert personal training sessions to keep our clients fit, healthy and active. During the current climate however, venturing out of the house for a personal training session has become impossible, and quite rightly so.
That being said, that doesn't mean you have to forgo your regular sessions of being put through your paces and let your results decline. On the contrary, with the help of modern technology and the art of the video call, we can now deliver our personal training sessions online, direct to your computer or smart device. 
That means regardless of where you are in the world, we can still deliver a fully bespoke personal training session. 
Expert Advice Readily Available
The Benefits For You
There are so many benefits to enjoy when it comes to online personal training and they far outweigh the fact that you aren't able to enjoy the great outdoors of your local park. Here are just a few of the advantages our clients have been seeing while using our online personal training and Isolation Packages.
Workout On Your Own Schedule
One of the beauties of online training is that you get to workout when it suits you. Whether you work from personalised workout plans or schedule video calls to suit you, you can ensure you workout when it's convenient for you. We know that many clients will be working from home and even homeschooling little ones. Whatever's going on at home, you can trust that our trainers will be able to find a time to suit you, whether that's at nap time or in between conference calls.
Enjoy Longer Workouts
By working out at home, you can say goodbye to travelling time. For many this allows them to be more productive in other areas. For those looking for faster results or improvements in their health and fitness, this means the ability to enjoy a longer workout without it impacting on their daily schedule.
Access Anytime To Expert Advice
Alongside our video calls to put you through your paces, we're also offering you all of the usual support, from nutritional support to motivation; you get access to our expert advice regardless of where you are in the world.
Additional Motivation
While online personal training may require a little more self motivation, it also means your personal trainer is just a click away to give you that much needed additional motivation and guidance to keep you on track.
Amazing Results
Having everything online means it's completely trackable too. You'll get to see your results in front of you while still enjoying the same great results you're used to.
What They're Saying About Us
I started Personal Training with Recipe For Results recently with a very specific goal in mind, but I had no idea how to achieve it or if it was even possible. When I met Martyn he was very knowledgeable and encouraging.

Fauzia Godwin
I started Personal Training with Martyn as I had recently had a hip replacement and I was very overweight and unfit. I had been doing a gentle, boring routine for a while and lost some weight but needed motivation to increase my fitness.

Lynne Keeling
Martyn keeps the Personal Training sessions interesting by teaching you different exercises each week and really pushing you forward so you can achieve your goals.

Neil Gregory
Started training with Martyn before my wedding and the benefits I saw in only a couple of months was enough to keep me going! Felt great on my hen do and wedding day too! Thanks! #SweatingForTheWedding

Crystal Coates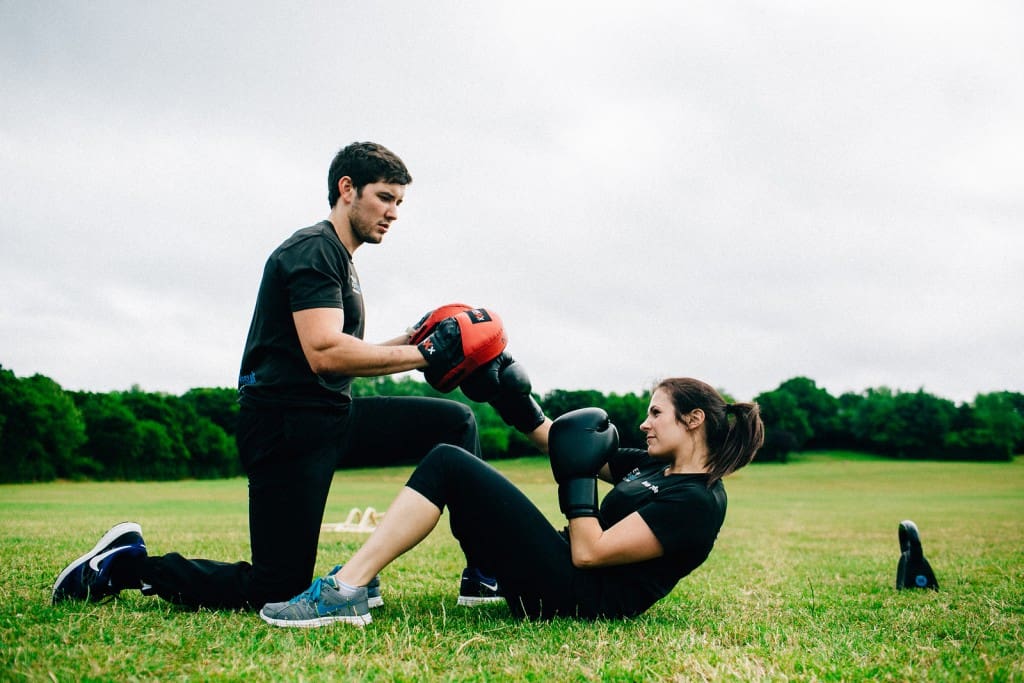 Professional And Friendly
Get Started Today
As with our regular face to face personal training, we have a number of different packages to suit your needs and your schedule. Whatever you're looking for, simply contact us today. Our team is here to help you through not only lockdown but beyond. Whether you're working from home and need a little motivation to stay on track or simply want something to keep you more active, we have exactly what you need with our online personal training sessions.